Lesezeit:
5
Minuten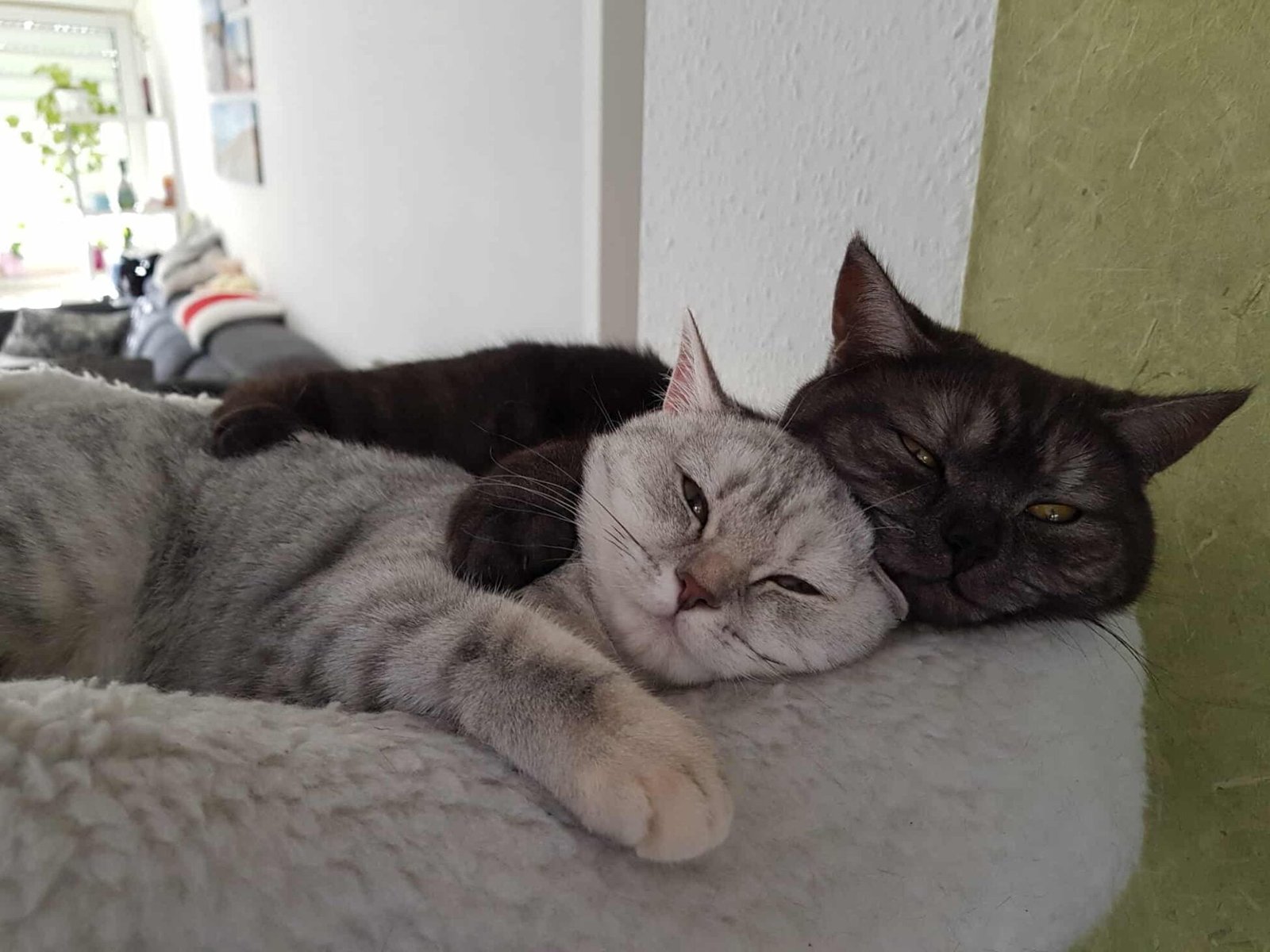 In this post you will learn how we help our cat grandpa Emil with his problems with arthritis.
Our two young BKH girls are a lot of fun, and they are such lovely cats. We are very happy with the two of them. But our old cat Emil has a very special place in our hearts. Warm cuddles and a cozy are important for an older cat, especially when he is in pain.
Emil is now 15 years old, and we could observe for a while that he has problems to jump on our couch. Meanwhile, it's more of a pull up on the couch than a jump up. Sometimes he even limps a little when he has been lying down for a long time. When he walks around he doesn't seem to be in pain, but when he wants to get on the couch there is already some kind of moaning coming from him.
We have already been to our vet to make sure that there is nothing else wrong with him. However, the vet determined that there was nothing else wrong with him and that the pain was age-related due to the arthritis. She gave us a painkiller that he gets whenever he has a bad day. We don't want to give him too much of it to avoid the risk of him possibly suffering additional damage from continuous use of the painkiller.
At the moment he is doing quite well, except for the problems described above, which he now has. In summer or as long as it is warm outside, he feels very comfortable and also likes to lie in the sun and enjoy the warmth. When it gets a little cooler, he likes to retreat to his cat cave that we have set up for him outside. He can then sit in the warm and still have fresh air blowing around his nose.
What is osteoarthritis and what is arthritis?
Often arthritis is spoken of but arthrosis is meant. Both diseases are similar in the problems they cause, but the cause is different. Both diseases cause pain in the joints of the cat.
However, arthritis is an acute inflammatory disease of the joints caused, for example, by viruses or bacteria or other immune reactions. Accordingly, quick action must be taken to prevent irreversible damage to the joint. Osteoarthritis, on the other hand, is a degenerative disease of the joints that is very common in cats due to their age.
Osteoarthritis symptoms in older cats
Cats tend not to let on when they have a health problem. Therefore, you as a cat owner often do not even notice that his darling is not doing so well. Only if they then also eat less or move less one becomes attentive.
Decreased activity may be a sign that a lot of exercise makes it too painful for the cat. It can also be a sign of fatigue, which often accompanies arthritis.
Changes in litter box habits, such as going potty outside the litter box, may be a sign that getting in and out of the litter box is painful for the cat's joints.
No longer jumping, running or going upstairs can be signs that these activities are just too painful. We have also noticed this with our Emil. He also usually takes things rather leisurely. However, when he is doing really well, he plays catch with the two BKH girls.
What helps with osteoarthritis?
There are many little things you can do at home to help your old cat with arthritis and make life easier.
Angebot
selbstheizende Wärmedecke
Wir haben dann etwas anderes gekauft, was wie eine normale Kuscheldecke aussieht. Der Clou daran ist, dass die Decke die Körperwärme, die Emil selbst abgibt speichert. Das findet er und auch die beiden BKH Mädels ganz toll. Ich glaube ich muss noch eine davon kaufen.
When interacting with your senior cat, be gentle with him. Games or activities that she used to enjoy may now cause her pain. For example, when I have to lift Emil, I put one hand under his chest and one under his belly, so he has no pain when I lift him.
Osteoarthritis treatment with heat
In the case of osteoarthritis, heat is helpful to naturally soothe his cat's aching joints. Therefore, we had already tried once to put Emil on a heating pad with the lowest setting. However, he did not like it at all. Maybe it was too warm or smelled funny, he certainly didn't like it.
When feeding our cats, we make sure that they get only high quality food with a high percentage of meat and that does not contain cereals. This way we are on the safe side with our Emil as well as with our BKH cats.
The prognosis for older cats with good osteoarthritis treatment
Cats can still live a long and happy life even with osteoarthritis. Old cats are like old people, a lot of things don't work like they used to but cats adapt to that without any problems. As I described above, there are a few things you can do to make life easier for your pet. And of course, a quiet warm place and petting is the best medicine for an old cat.
Letzte Aktualisierung am 2021-01-12 / Affiliate Links / Bilder von der Amazon Product Advertising API